Click on this text to hear audio-tape of Nixon: "The Jews are Born Spies"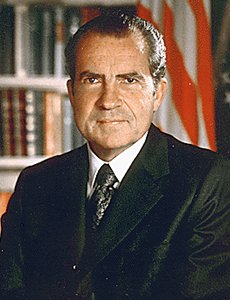 Click on this text to hear audio tape of President Nixon & Reverend Billy Graham Discuss Jewish control of Media...
NIXON'S JEWISH PROBLEM

So let's look back to American presidents being puppets
of Jewish masters... Starting with Richard Nixon through
to Obama in his second term.


Nixon had been Senator Joe McCarthy's right-hand man
during the "Red Scare" of the 1950s. McCarthy headed
up the House Un-American Activities Committee that was
investigating suspected communists and their activities.
They were referred to as "Commies" or "Reds."
The name "Reds" came from the "Red" faction that opposed
the "White" faction during the Russian Revolution just
prior to World War I.

Also scrutinized were "Pinkos", who were not quite
"Red", but just "Pink." Jewish Germans such as Karl Marx
and Frederich Engels had scared the bejeezuz out of all
the capitalists in the Western World with their
Communist Manifesto. Marx and Engels proposed a
socio-political system where there would be no fat-cat
exploiters allowed in the game and every man would be
his brother's keeper... to a point. Those are two aspects
of communism that capitalists equate with abject blasphemy!

Some of these same Russian and European adherents of
the Communist Manifesto immigrated to America in the
early 20th Century. In America they were spreading the
word about communism, and communism's step-sister,
socialism. These Reds and Pinkos were also managing to
place themselves in positions of influence in the movie
industry as screenwriters and directors, and in the literary
arts, the publishing industry, and elsewhere.

Most of those scrutinized by McCarthy's Committee
were Jews such as Hollywood screenplay writers Alva
Bessie, Samuel Ornitz, Albert Maltz and Herbert
Biberman (members of the so called "Hollywood Ten").

Also scrutinized were author Arthur Miller, songwriter
Yip Harburg (who wrote the songs for "The Wizard of
Oz"), and actors such as Herschel Bernardi, Zero Mostel,
John (Garfinkel) Garfield, Lillian Hellman, and
contemporary actor Sean Penn's father, Leo Penn.

It was Nixon's experience on the House Un-American
Activities Committee that made him weary of Jews in
general. Notable Nixon quotes (from de-classified Nixon
White House tapes speaking to his White House Chief of
Staff H. R. "Bob" Haldeman) are:

1) "The only two non-Jews in the Communist
conspiracy were [Whittaker] Chambers and
[Alger] Hiss. Many felt that Hiss was, or he could
have been half, but he was not by religion. The
only two non-Jews. Every other one was a Jew.
And it raised hell with us."

2) "There's a Jewish cabal, you know, running
through this, working only with people like
[Federal Reserve Board Chairman Arthur] Burns
and the rest. And they all only talk to Jews."

3) "Most Jews are disloyal." After explaining that his
Jews (who were Kissinger, White House Counsel
Leonard Garment, and speechwriter William
Safire) could be trusted, he said, "But Bob,
generally speaking, you can't trust the bastards.
They turn on you. Am I right or wrong?"

4) "The Jews are born spies. You notice how many of
them there are? They're just in it up to their necks.
Also arrogance, an arrogance that says – that's
what makes a spy. He puts himself above the law."


5) "Bob, please get me the names of the Jews, you
know, the big Jewish contributors of the
Democrats... All right? Could we please
investigate some of the cocksuckers?"

So, Nixon went too far in referring to all big Jewish
Democratic campaign contributors as "cocksuckers." But
it's true to say that orthodox Jewish mohels are indeed
cocksuckers and will go to jail rather than stop the
circumcision ritual of sucking the blood from an infant's
freshly circumcised penis.